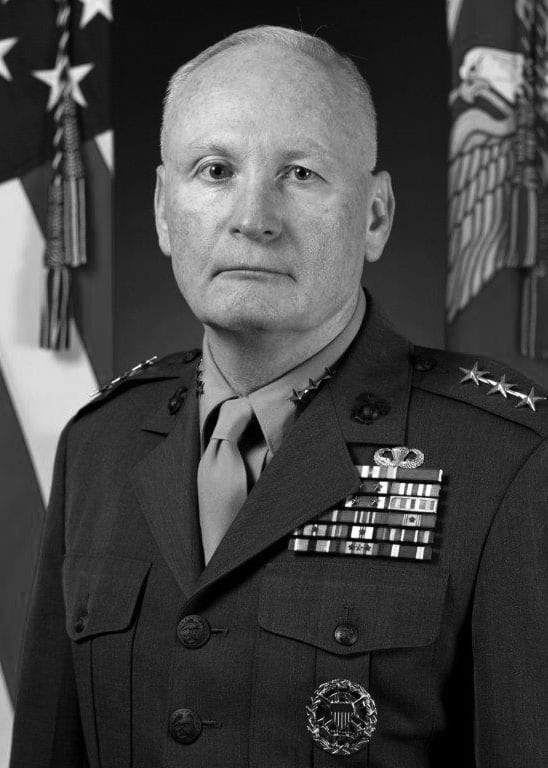 New Mexico Military Institute
Hall of Fame
James B. Laster, LTG, United States Marine Corps (Ret), 75 HS, 77JC
James B. Laster is a native of Dallas, Texas, and graduated from both the high school and Junior College divisions.  He was commissioned a second lieutenant in 1978 through the Platoon Leaders Course Program. Upon completion of The Basic School, he reported to 3d Battalion, 4th Marine Regiment, where he served as a rifle platoon commander and rifle company executive officer. In 1981, he transferred to Marine Barracks, Washington, DC where he served as a platoon commander, company executive officer, and White House Social Aide. In 1983, he was assigned to 7th Marines and served two years as a rifle company commander, one year as weapons company commander in 3d Battalion, 7th Marines, and completed his tour as the regimental assistant operations officer. In1987, he attended the Army Airborne School and Advanced Infantry Officers Course at Fort Benning, Georgia, and was a Distinguished Graduate. He transferred to 25th Marines in 1989 and assumed duties as Inspector Instructor for Company A, 1stBn, 25th Marines, and served as the I-I Operations Officer for 25th Marine Regiment. In 1991, he was assigned as Aide-de-Camp to the Commandant of the Marine Corps, General C. E. Mundy, Jr. He subsequently attended Marine Corps Command and Staff College and graduated with distinction. Returning to the Fleet Marine Force in 1993, he commanded Headquarters and Service Company, I MEF, and Headquarters and Service Company, 1st Surveillance, Reconnaissance, and Intelligence Group. In 1995, he assumed duties as Executive Officer, 1st Battalion, 1st Marines and deployed to the Arabian Gulf with the 15th MEU (SOC). During this assignment he also served as Commander, Maritime Special Purpose Force (MSPF), 15th MEU (SOC). In 1996, he was promoted to Lieutenant Colonel and assumed duties as Operations Officer and deployed again to the Arabian Gulf/CENTCOM AOR. In 1997, he was assigned as Deputy AC/S G-7 and Inspector, 1st Marine Division. During the period January to 1998, he deployed to Africa as J-3 of Joint Task Force Kenya in support of Operation Noble Response, Humanitarian Relief operations in Kenya, East Africa. Lieutenant General Laster assumed command of 3d Battalion, 4th Marines in 1998 and moved the battalion to Twentynine Palms, California. He relinquished command in 2000 and was transferred to the National War College.
Upon completion of the National War College in 2001, he was promoted to Colonel, and was assigned to the Joint Staff as Chief of War Plans, J-7. Following the events of 9/11, he assumed duties in the Joint Staff J-3 as Assistant Chief, Future Operations Group. From 2003 to 2005, he commanded The Basic School, and then assumed duties as Chief of Staff, Training and Education Command. He commanded Training Command during 2006 to 2007, and served as Commanding General of Training and Education Command during December 2007 to 2008. He assumed command of Marine Corps Recruit Depot Parris Island, South Carolina and Eastern Recruiting Region in 2008. In 2009, he assumed command of 3d Marine Division. He served from 2011 to 2012 in Afghanistan as the Deputy Chief of Staff for Joint Operations, ISAF Joint Command. In 2012, he assumed duties as Chief of Staff of United States Special Operations Command.
Lieutenant General Laster is also a graduate of Southwest Texas State University and holds a Master of Science degree in National Strategy from the National War College. He was awarded the Leftwich Trophy in 1989 for outstanding leadership.  His service is in keeping with the New Mexico Military credo of Duty, Honor, Achievement.
Inducted for Flag Rank this 19th day of October in the year 2018