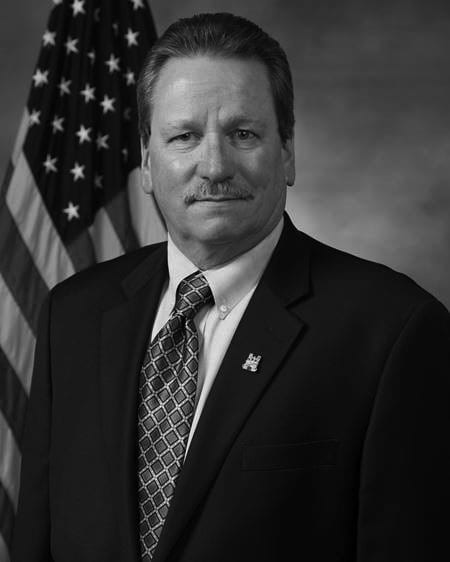 NEW MEXICO MILITARY INSTITUTE
HALL OF FAME
Phillip C. Ingram, 1967 HS
Phillip C. Ingram attended high school at New Mexico Military Institute in the fall of 1964, graduating in 1967.
Upon graduation Phill Ingram attended Texas Tech University obtaining a degree in finance.   He and his wife Nancy live in Albuquerque, New Mexico, and he has dedicated his adult life to promoting not only his business, but also New Mexico Military Institute throughout the state and the United States.
Phill Ingram is a master fundraiser and has been referred to as the "Father of Fundraising" in Albuquerque circles.  His accomplishments are many and he has served two terms as an NMMI Regent working tirelessly to raise over $500,000.00 to help build the training center, weight room and trainer rooms at the Institute.  He served on every committee for the Board of Regents –Executive, Academics, Cadet Life, Support, Finance/Audit and Athletic/Physical Fitness.
Phill Ingram helped recruit three new regents during his two terms and was sought after to help create evaluation reports and Goals and Vision Statements for Superintendents.  He has personally recruited numerous new cadets to go to the Institute and has taught the same lessons of Duty, Honor and Achievement that are the guiding principles that he has followed throughout his cadet and professional life.
Phill Ingram further worked with the Chief of Staff to revise the Board of Regents Policy Manual and he worked on upgrading the Director of Admissions position by establishing relevant and professional goals and guidelines.  He started the Annual Regents Steak Dinner for the Corps of Cadet Leaders and invited guests to help network the Regents with Corps Leadership.  He has written letters to legislators for funding and also lobbied on a consistent basis.  He was the first Regent to network with faculty by attending Faculty Senate Meetings.  He has served as both a Commencement speaker and Convocation Speaker for graduates, cadets, staff and instructors.  He further represented New Mexico Military Institute as a public member of the Higher Education Committee for the North Central District for two years.
Phill Ingram's generosity to the school hasn't stopped with his continued alumni activities.  He has established the Ingram Family Foundation Fund dedicated to assisting cadets in need.  He raised over $30,000.00 to establish The Rear Admiral and Mrs. David R. Ellison, USN (Ret) Servant Leadership Scholarship and The Phill C. and Nancy H. Ingram Family Endowment that can be used for a scholarship or to support NMMI.  He has also worked to hire a paid fundraiser for the NMMI Foundation and helped provide training and materials on charitable giving to the fundraising team.
Phill Ingram's dedicated career in financial advising and investing and his spirit of volunteerism throughout his life have greatly benefited the Institute.  His business expertise and his selfless service are solid examples of the New Mexico Military Institute credo of Duty, Honor and Achievement.
Inducted for Service this 25th day of October in the year 2019